NUMBER 1 BEST SELLING KAYAK
The Aquaglide Chelan Kayaks have been best sellers for the past 6 years.
It is one of the most versatile & robust kayaks on the market and an exceptional choice for performance and touring whilst also having features for fishing. Outdoor water enthusiasts love the enhanced gear storage and thoughtful, customizable options.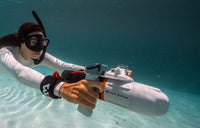 AQUA MARINA BLUEDRIVE X
Introducing the innovative industry-leading underwater propulsion system- BLUEDRIVE X. An all-in-one kit that unlocks the gate to both overwater & underwater exploration.  The BLUEDRIVE X engine propels you up to 7km/h both on a vessel (kayak or paddle board) and in the water (sea scooter).
VIEW NOW
OUR BRANDS